---
Having been born and raised in Morocco, traveling between Africa, Asia and Europe, I had experienced enriching and exciting cultures, traditions and behaviors. As a result, I developed a strong interest in foreign cultures, taking pictures and telling stories.
I have always had a flair for telling stories such as writing articles and reporting on events, but it was not until the few years I took traveling in Madagascar that I began taking it very seriously. I have lived through the beginning of the coup d'état during my two years living in Madagascar and I felt the need to use my camera to portray what I saw happening before me. It was there where I discovered my passion for photojournalism. I also enjoy discovering the many genres of photography, specifically landscape, 
still life and documentary photography.

​Sofia Elghazzali
​




Powered by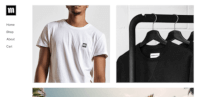 Create your own unique website with customizable templates.