fireproof aluminum foil bubble insulation material

1.What is the roof and wall insulation material?
First, We need to reflect the sunshine and shield radiant heat from house roof and wall in order to keep room's temperature. The aluminum foil and metallized polyester film (MPet) have this function. So, all the material which laminate with alu foil and MPet are the insulatioin materials.
2.Which structures are popular on the market?
Al Foil/Bubble and MPet/Bubble
Al Foil/Bubble/Al foil, MPet/bubble/MPet
Al Foil/Bubble/Bubble/Alu Foil
AI Foil/EPE/White Bubble
Quick Detail
Type: Other Heat Insulation Materials. Hat insulation bubble foil sheet
Main Material:Aluminum Foil & Bubble Foil
Weight:200-800g/Roll
Normal Thickness: 2.5-10mm
Dia.of Bubble:10-25mm
Height of Bubble: 3-9mm
Dimensions(W*L)/Roll: 0.6*12.5m/25m ,1.2*20m/40m,1.5*30m/40m/50m (can be customized)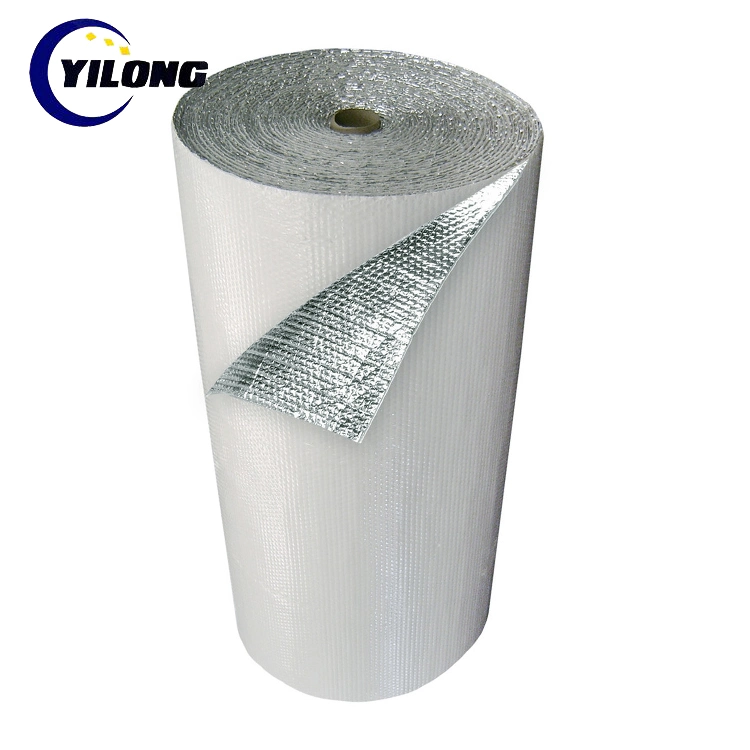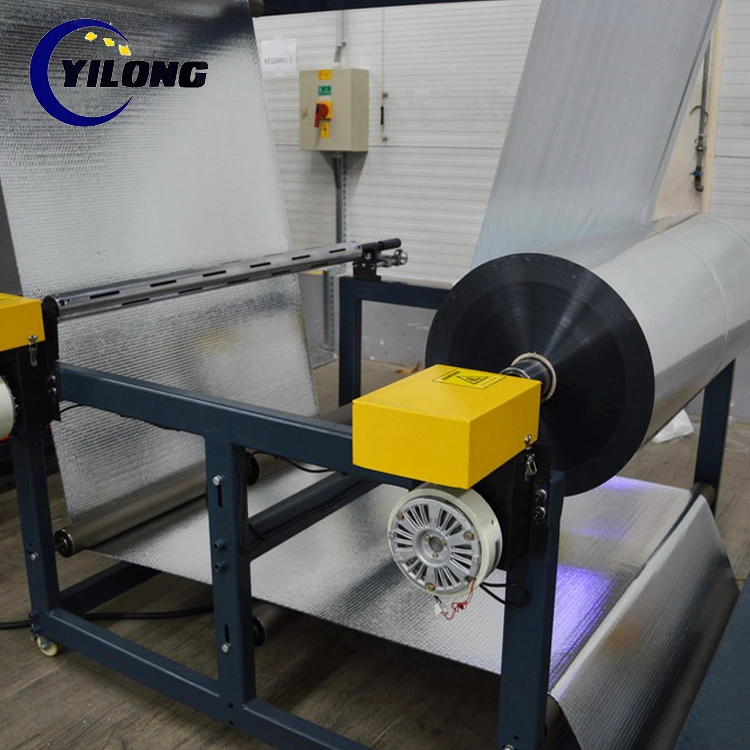 This is a new environmentally-friendly heat Insulation material, which is soft, light and easy to install. It is made from Aluminum foil and polyethylene by special machinery. It has no odor and toxicity. It not only overcomes the discomfort and environmental damage brought by glass fiber and epispastics materials, but can also resist ultraviolet radiation which could penetrate through sheet iron, concrete, wood and other common heat insulation materials. This new heat insulation material not only has good insulation, heat reflection & insulation and anti-radiation functions, but also has good moisture-barrier, heat preservation and energy-saving functions in housing construction.

Specification
| | |
| --- | --- |
| Aluminum foil structure | PET+ Al+ PE |
| Bubble diameter | 10, 20, 25, 35mm |
| Bubble height | 3, 4, 6, 7, 8, 9, 15mm |
| Pure Aluminum/Metallic Aluminum thickness | 7 micron/12 micron |
| Nominal Thickness | 1/4" - 5/16" |
| Fire Rating | Class 1/ Class A (ASTM E84-09) |
| Full Room Burn | Pass (NFPA 286) |
| Emissivity | 0.04 (ASTM C1371-04A) |
| Reflectivity | 0.96 (ASTM E903) |
| Temp Range | -50F to 180F (ASTM C411) |
| Water Vapor Permeability | 0.02 Perms (ASTM E96) |
| Resistance to Fungi | Does Not Promote Growth (ASTM C1149) |
| Pliability | No Cracking (ASTM C1224-03) |
| Bleeding | None (ASTM C1224-03) |
| Corrosiveness | Pass (ASTM D3310-00) |
| Thermal Resistance | R-3 to R-21 (Varies depending on application) |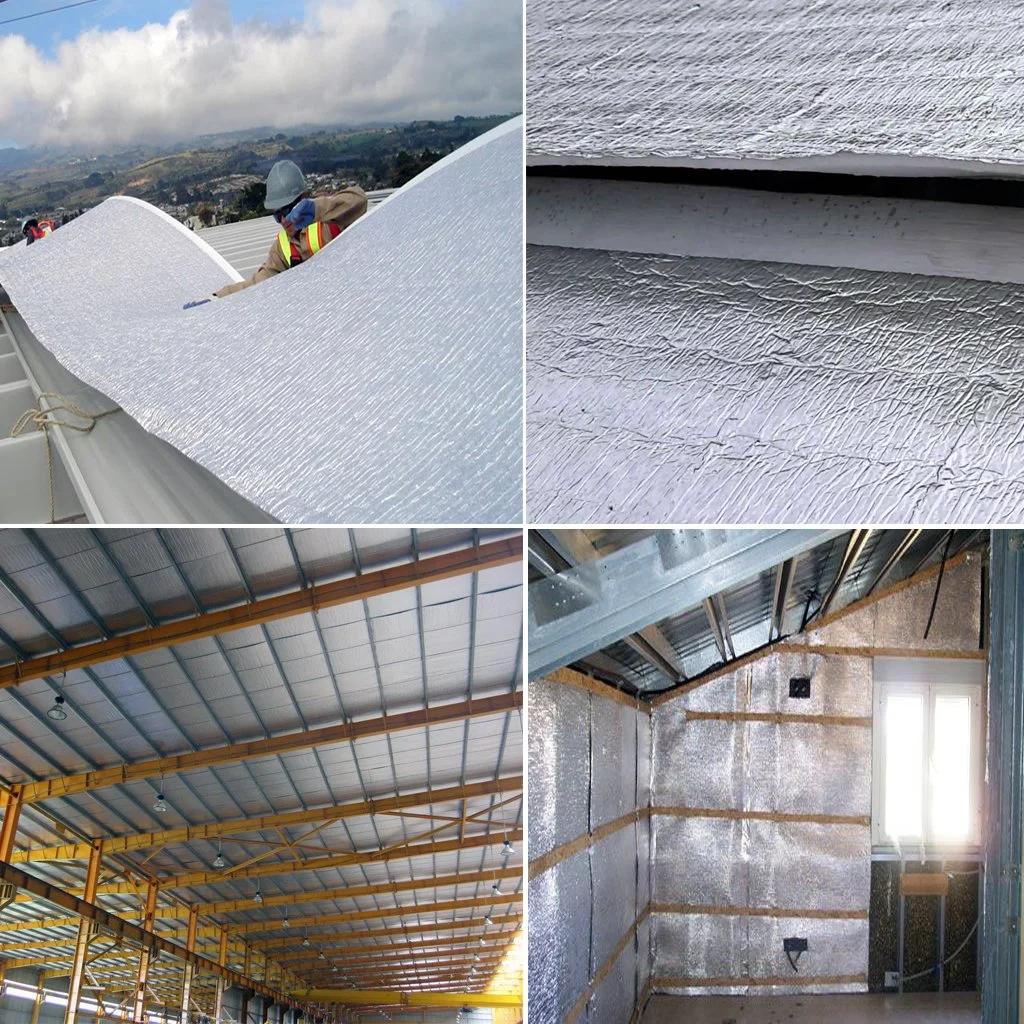 Aluminum foil can be laminated with single bubble, double bubble, reinforced fiberglass, woven fabric, bubble with EPE foam.
Package: one roll per transparent PE bag(customized)
Application: Homes/ Metal & Steel Buildings/ Roof Underlayments/ Attics/ Ceilings/ Floors/ Basement Walls/ Post frame buildings/ Temperature sensitive storage areas/ Garage Doors/ Pole barns/Poultry barns/ Crawl Space
Advantages of our products
Reflects 95%-97% of the radiant heat increase comfort levels.
Insulating temperature 10-20 degrees.
Available anti-glare coating against oxidization and corrosion.
No odor and toxicity, environmentally-friendly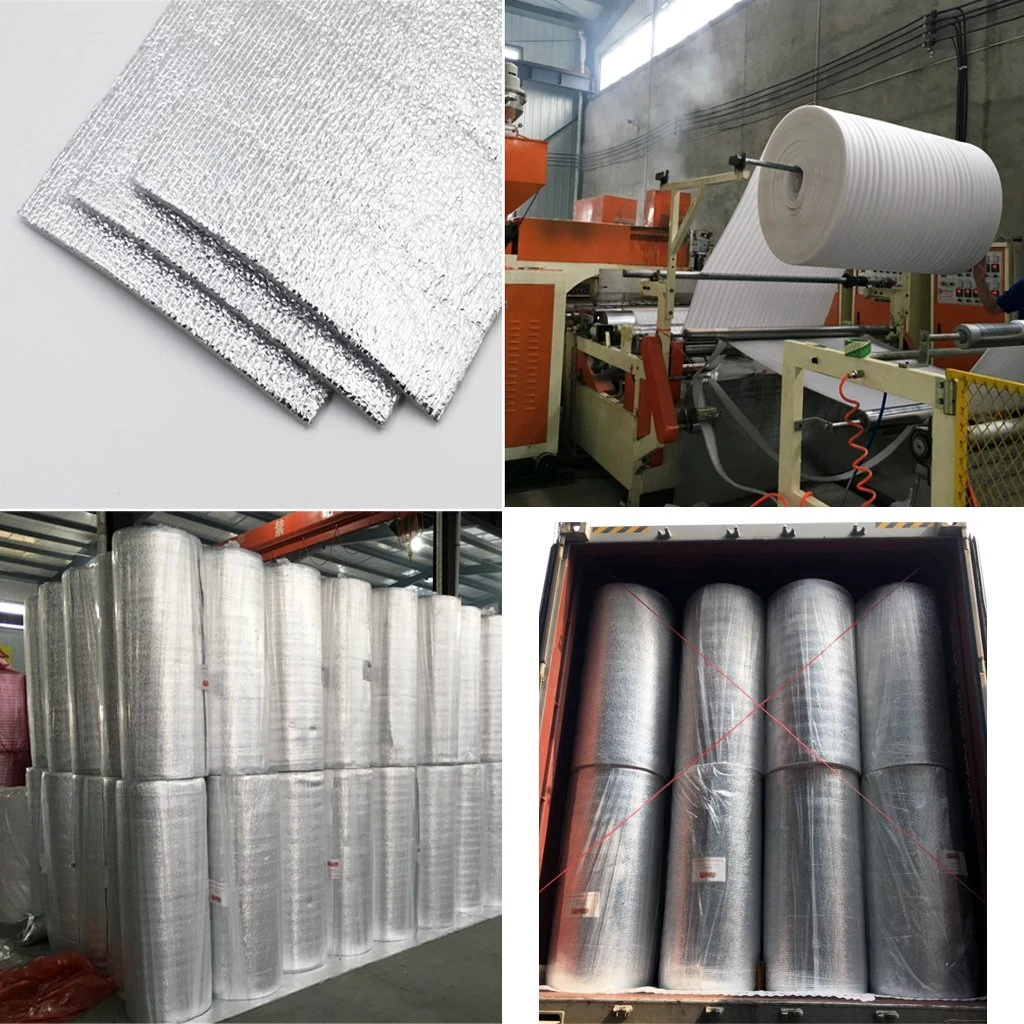 About US
Tianjin Jiashengyilong Trading Co.,Ltd.has been established with a long term focus and an aspiration of rising in the ladder of the top companies involved in the manufacturing and marketing of Reflective insulation material. It was started in Tianjin that has the largest imp&exp port in North of China ,it is the only full service Reflective Insulation company on the north coast in China.
Relying on the four wholly-owned subsidiary factories as production base in north & south of China, Tianjin Jiashengyilong Trading Co.,Ltd is capable of research &development of new technology in reflective insulation material.
We have employed a team of qualified, hardworking and sincere professionals, which has years of experience in this field. All professionals work in different units as their experience and qualification. Our team works according to the specifications provided by the clients to meet their requirements. Moreover, we also arrange training sessions on a regular basis to enhance the skills and knowledge of our team.
The workforce is provided with the latest and most advanced manufacturing machinery that is specially brought in from Europe and Japan.

Our other product

Bubble insulation materials

Alu + (single / double) PE bubble + PE film
Alu + (single / double) PE bubble + Alu
Alu + woven + (single / double) PE bubble + Alu
Coating + Reinforced Al + (single/double) PE bubble + Alu + Coating
Metallic Alu + (single / double) PE bubble + Metallic Alu

Foam insulation materials

Pure Alu/Metallic Alu + XPE/EPE
Alu + XPE/EPE + Alu
Alu + Woven + XPE + Alu
Alu + XPE + Peel&Stick
Coating + Reinforced Alu + XPE + Reinforced Alu + Coating

Radiant barriers

Alu + Woven + Alu
Alu + Kraft + fireproof glue + kraft + Alu
Alu + Kraft + fireproof glue +woven + Coating
Alu + fireproof glue + Woven + Coating
FAQ
(1)How to guarantee your product quality?
We are a professional company engaged in the field more than 15 years with rich experience , advanced technology and high-tech employees.
(2)Could your products can meet our requirements?
Our products are produced according to customers' requirements, size and color can be customized. If you have any question about us, please feel free to contact us, we will response you as soon as possible.
(3)What's the use age of your product?
If use indoor, can be 5-8 years; if use outdoor, can be 1-3 years; if use inside the wall, can be permanent
(4)How to contact you for buying ?
Mr.Mark Miao +86 136 2213 1883